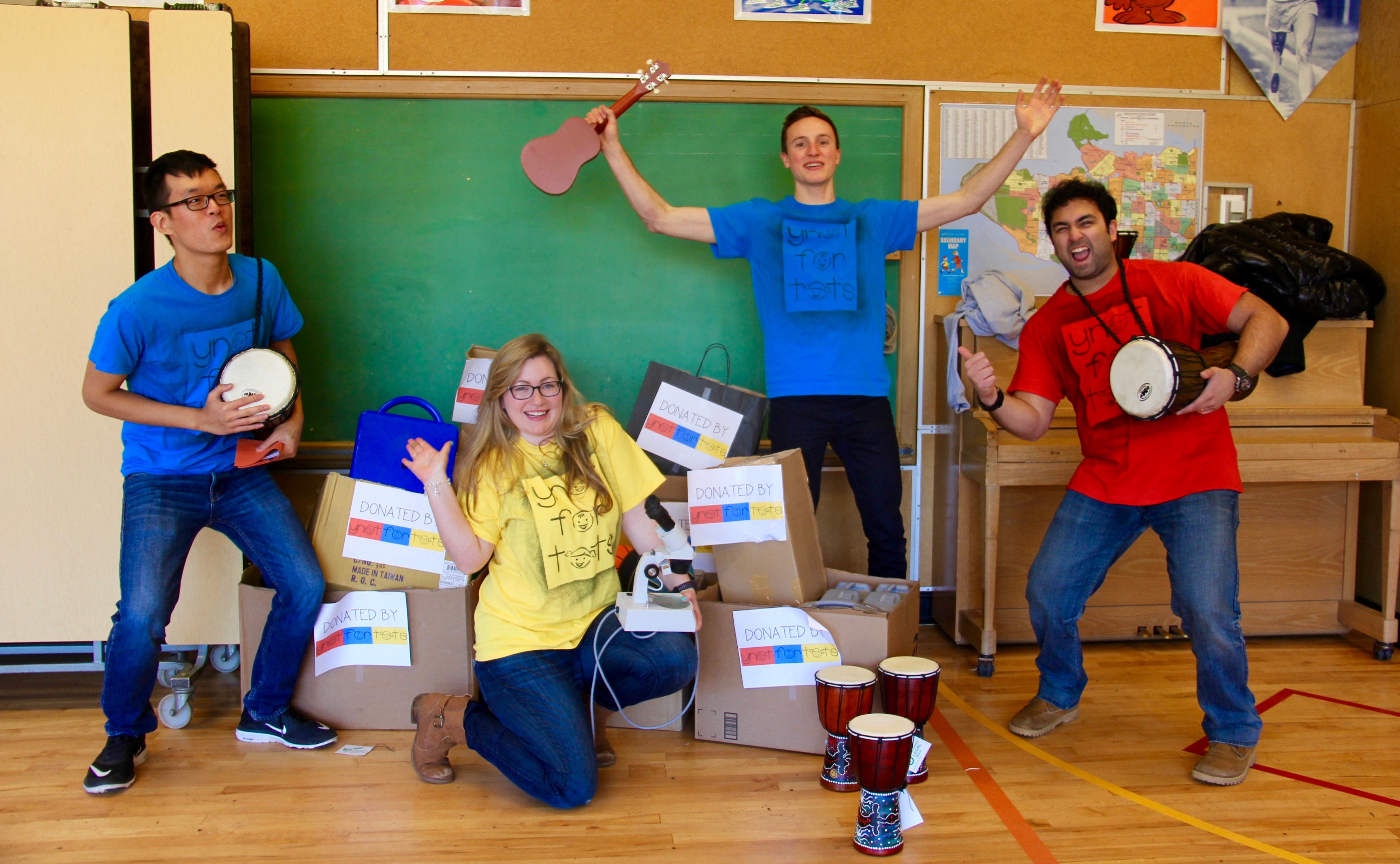 November 23rd, 2018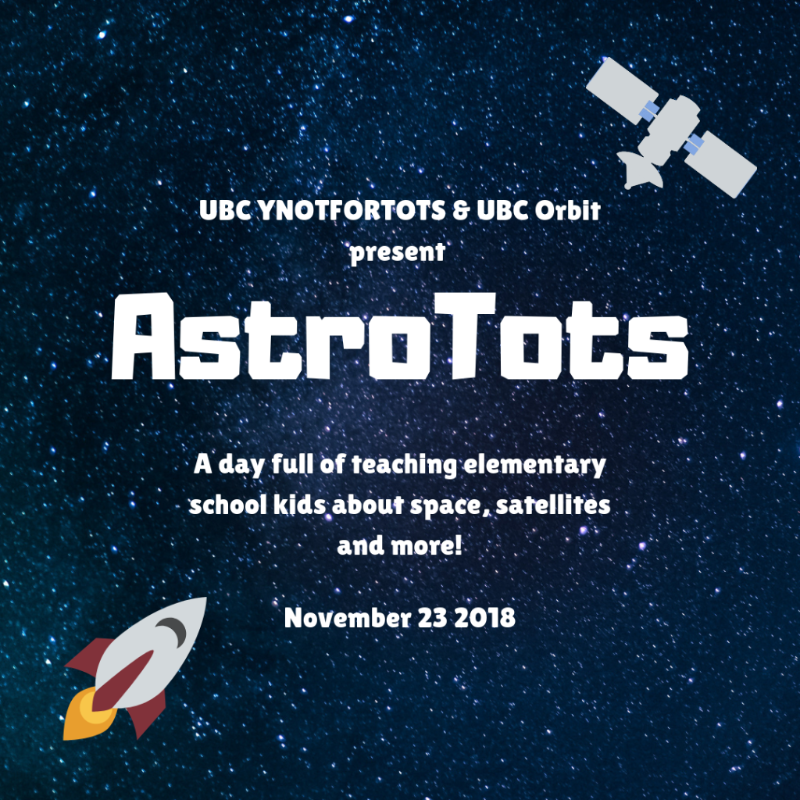 In collaboration with UBC Orbit, we are holding 6 workshops at Florence Nightingale Elementary to teach kids about S P A C E and SATELLITES! ??️
Volunteers will be helping in preparing the workshops and building mini-rockets ??
No prior knowledge of space or satellites is needed to volunteer! 
🙂
Message us if you're interested.
November 19th, 2018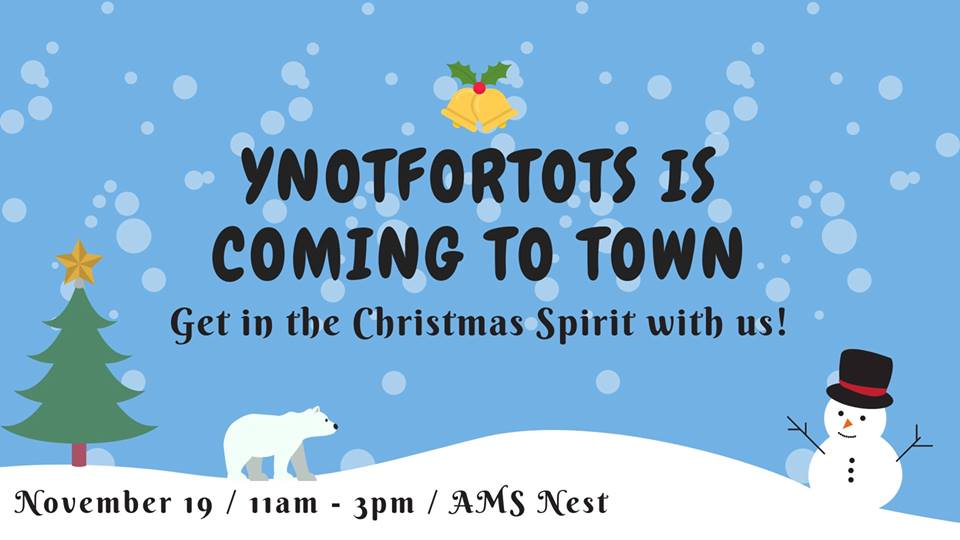 ~YNOTFORTOTS is coming to tooooown~
Get in the Christmas spirit ⛄❄ with us cause it's never too early to get into a Christmas mood ?
?AND… Tis the season of giving ?
We'll be selling baked goods and delicious hot chocolate to help
Captain James Cook Elementary get the resources they need to provide quality education for their students.
For more information on the various items we're looking for, click the link below:
http://dev.ynotfortots.com/item-registry/
So don't let exams and classes make you a Grinch this Christmas and get in the Christmas spirit with us ?
November 8th, 2018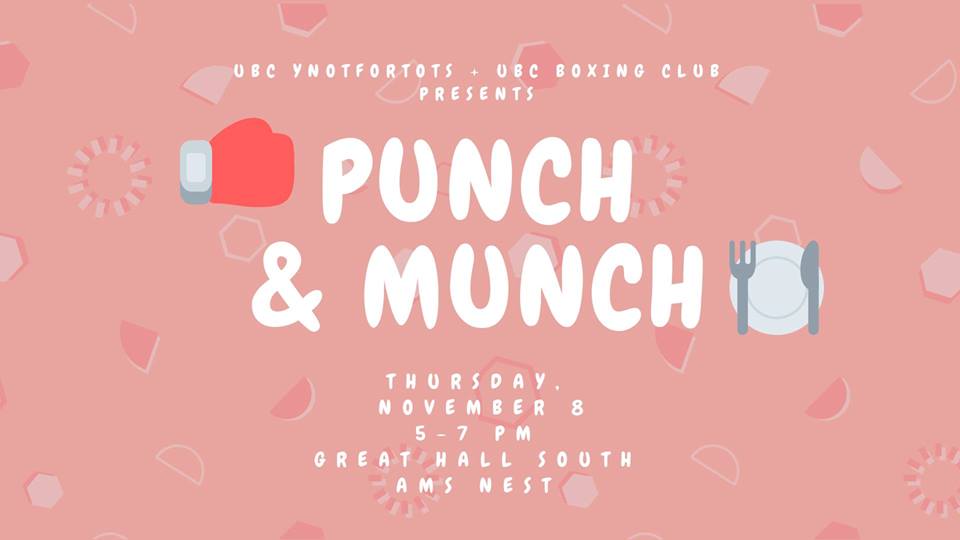 Come for a knockout time with us ♥
In collaboration with AMS Boxing Club, we present to you…
Punch & Munch.
Learn a couple of boxing moves while also getting to know the execs and other members of the club. And after all that sweating, you can enjoy the food that comes after 🙂
Don't want to box? That's cool too!
Just come on down and chill with us, get some good food and good company 🙂
Schedule:
5-6pm – Boxing 101
6-7pm – Food & Socialising 😉
**Members can attend the event for free, memberships can be purchased at this event**
October 29th, 2018
UBC YNOTFORTOTS presents…
TRICK OR TREAT YO'SELF
Need a little sugar rush to get you through that Monday Blues?
We will be selling tasty treats and mini pumpkins for you guys to decorate your homes this Halloween 🙂
So, treat yo'self this Halloween with us ♥
[When?] Monday, 29th October
[Where?] Main Floor, AMS Nest
**All proceeds will go towards helping out Captain James Cook Elementary School **
October 25th, 2018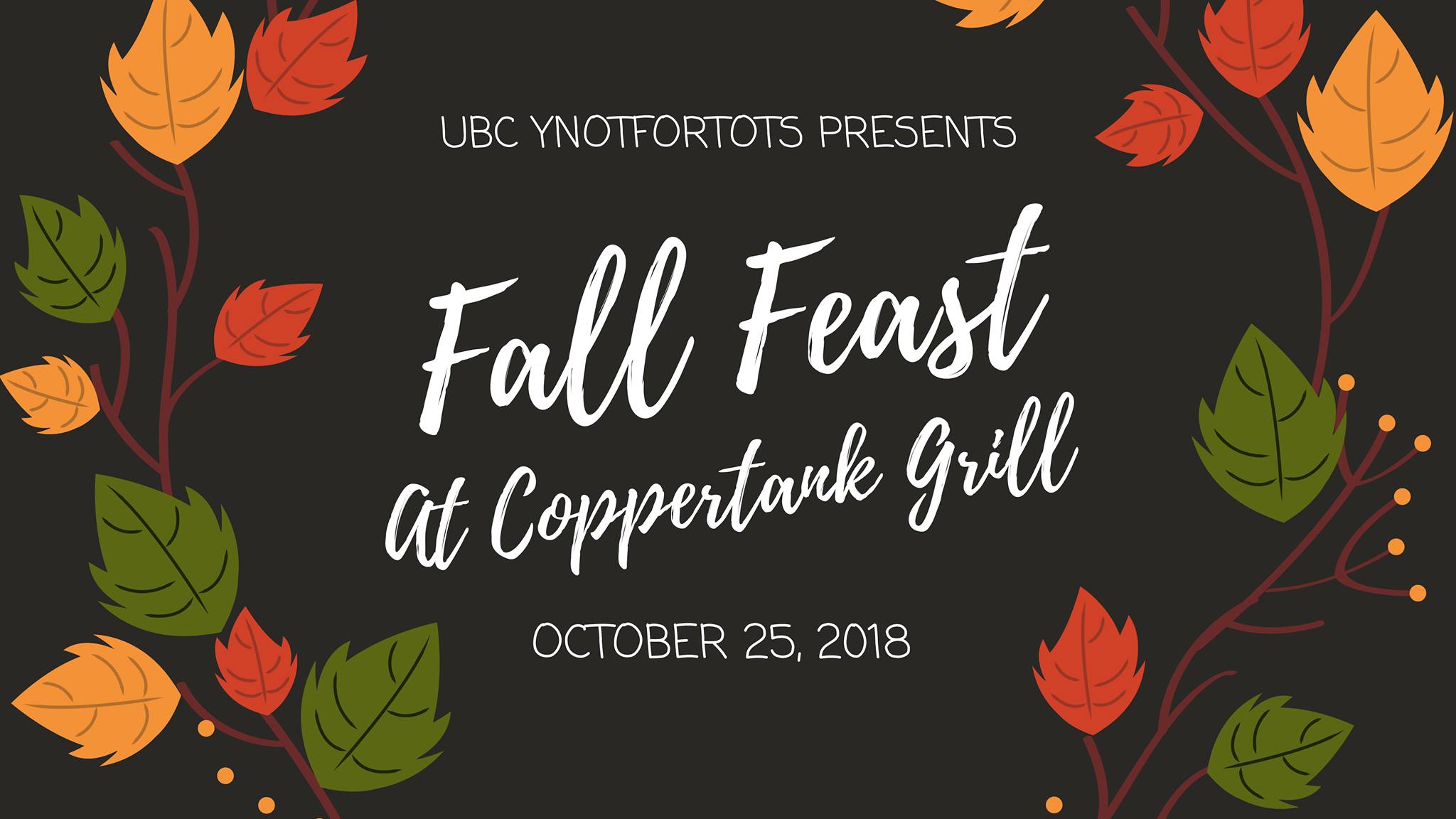 Need a break from midterm?
Not sure where to eat on a Thursday night?
Well, we got you ?
Feast with us on the 25th at Coppertank and eat to your heart's content while also helping out your local community!!!?
** 20% of all the food and drinks your purchase at Coppertank will go towards helping disadvantaged kids get a quality education ❤ **
We'll also be having a swell bottle at the event, so come on down to get your chance to win it!!! ?
So fall in love this autumn season ? with giving back and helping the underfunded elementary schools ❤??
October 3rd, 2018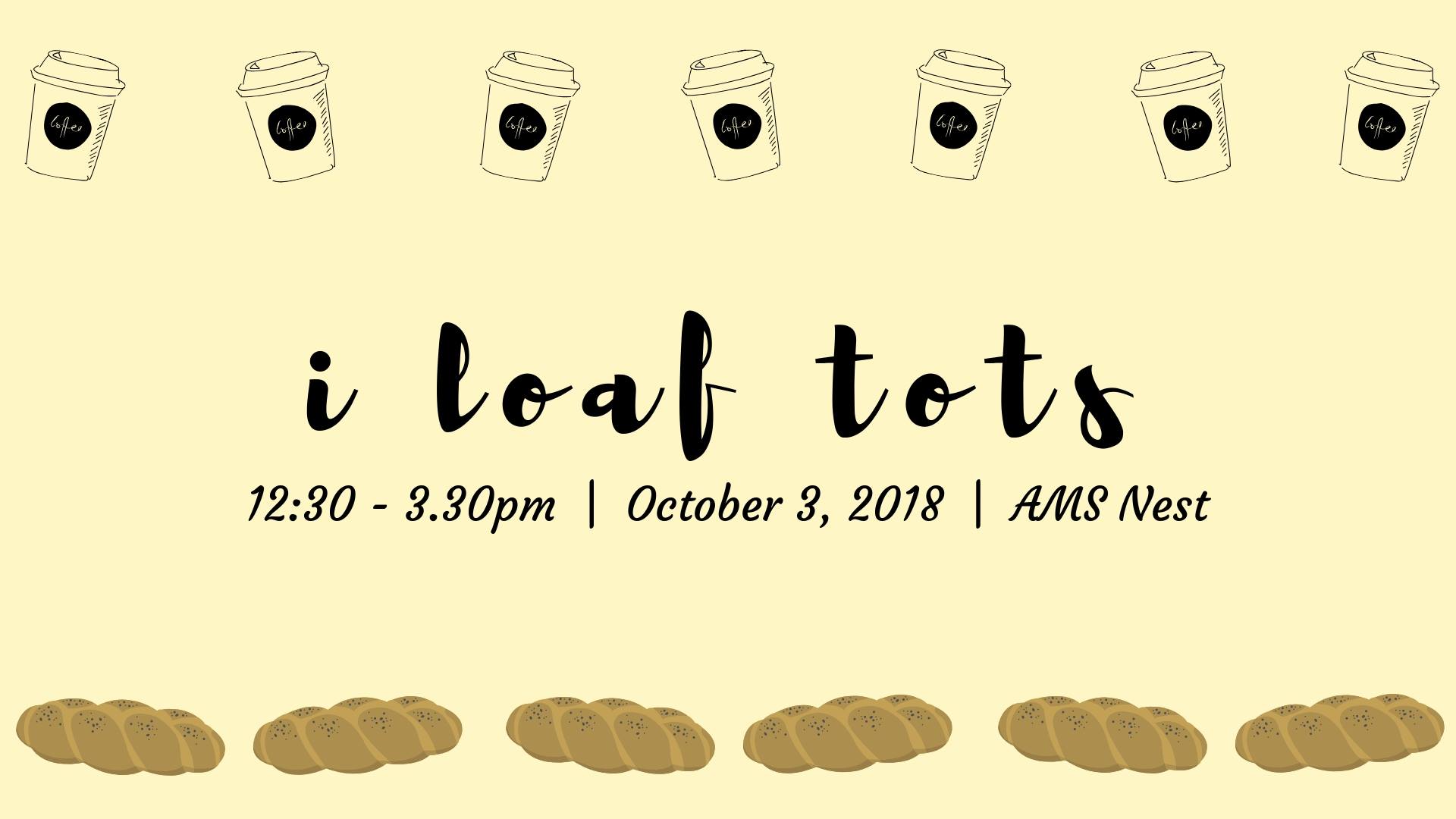 Need that extra boost midday?
Craving that cup of coffee you oh-so-desperately need?
Well YNOTFORTOTS' got your back 😉
Get your daily dose of coffee for as cheap as $1 and get a classic combo of coffee and a pastry for a cheap price
(We will have cinnamon buns from Grounds for Coffee!!!)
Treat yourself and spread the love around by coming out and supporting us. ♥
** 100% of the profits will go towards helping out deserving children in the Lower Mainland**
September 10th, 2018
Thank you all for coming out to our Toss for Tots event (despite the unfortunate weather conditions.) Thanks to you, we were able to kickstart this term with $54, which will go toward helping underprivileged kids in the Lower Mainland.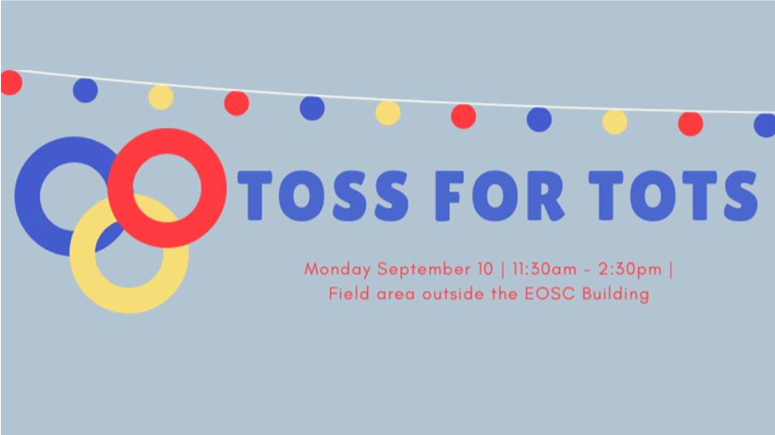 OUR FIRST EVENT OF THE YEAR!
This is our first event of the year and we're starting out with a simple toss game for y'all to have some fun and also get the chance to win some goodies that will help you start off strong this term!
So here's how it works:
If the throws add up to 3 points, then you get a ticket to entire into our draw! Each hoop is worth 1 point but if you manage to get it in the intersection (landing in all three hoops) that's 3 points.
$2 for 3 tosses
$3 for 5 tosses
Winner of the draw will be announced at 5pm that day
❤ ALL proceeds will go towards supporting local underprivileged schools! ❤
March 22, 2018
Thank you to all those who came out to Coppertank to support our efforts in helping children in the Lower Mainland get the education they deserve. Thanks to you we were able to raise $296!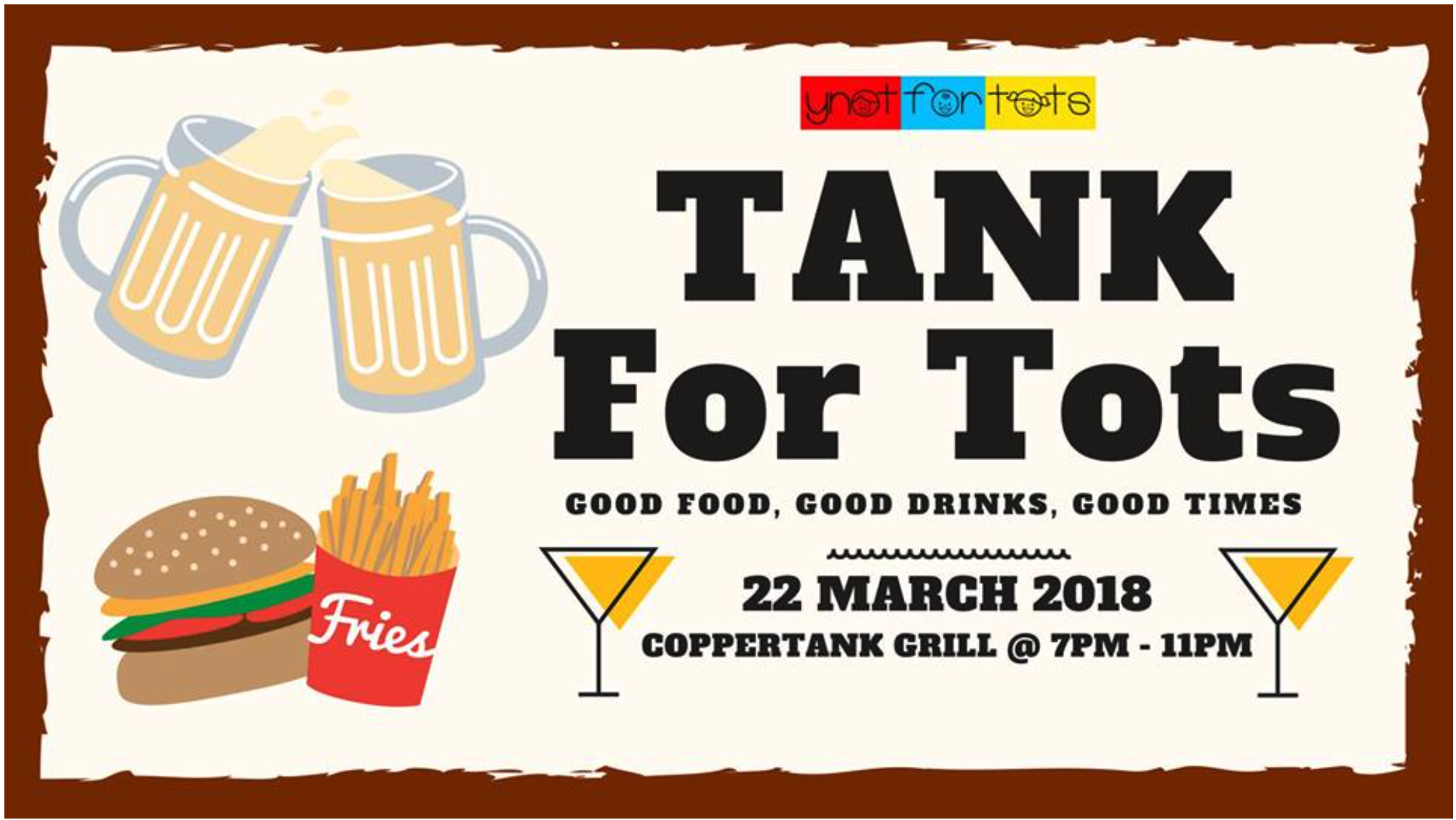 Come out to The Coppertank on Broadway for some good food, good drinks and great company this coming Thursday March 22nd (and support opportunities for kids while you're at it)!
Find the YNOTFORTOTS booth at the TANK and 20% of all food and drink purchased will go towards our fundraising efforts! There's no better way to do good while having a great time!
IN ADDITION, we will be raffling off one coveted S'well water bottle! Tickets are only $2 and can be purchased at the event. The raffle will be drawn at the end of the night.
Can't wait to see you all there!!
February 28, 2018
Thank you for coming out to our little Pancake Party, to help kick start your mornings.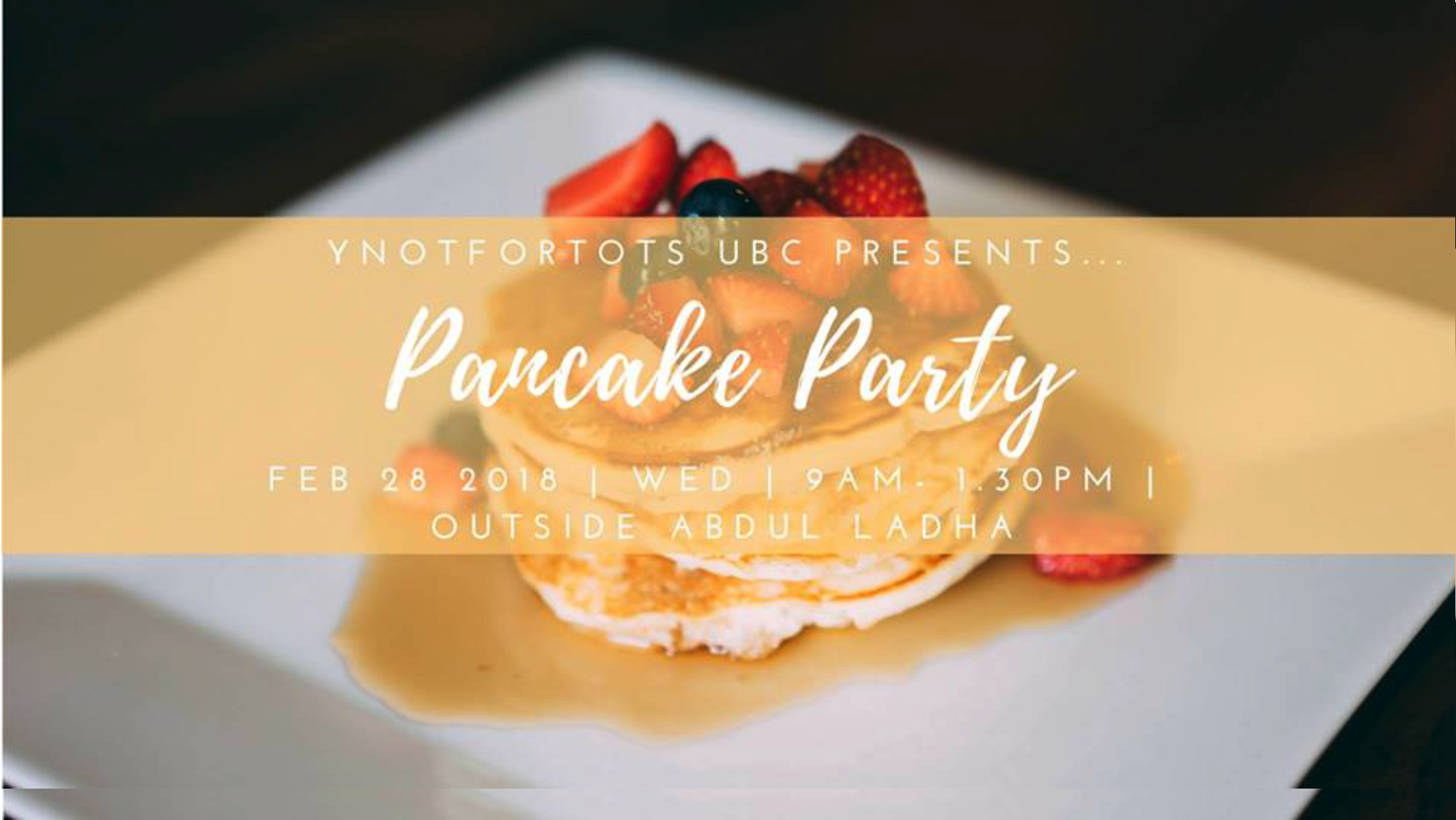 Sad about reading break coming to a close? Need something to ease you into the first week back at school? We've got you covered 🙂 Nothing like a fresh stack of pancakes and hot coffee to kickstart your Wednesday morning! Come find our booth right outside Abdul Ladha on Feb. 28th and join the pancake party!
1 pancake = $2
3 pancakes = $5
Coffee = $1
All proceeds go towards funding opportunities for underprivileged children in the Lower Mainland.
January 31, 2018
Thank you all for coming out to Ramen Rush, because of you, we were able to raise $138 which supports our initiative in helping children receive the education they deserve.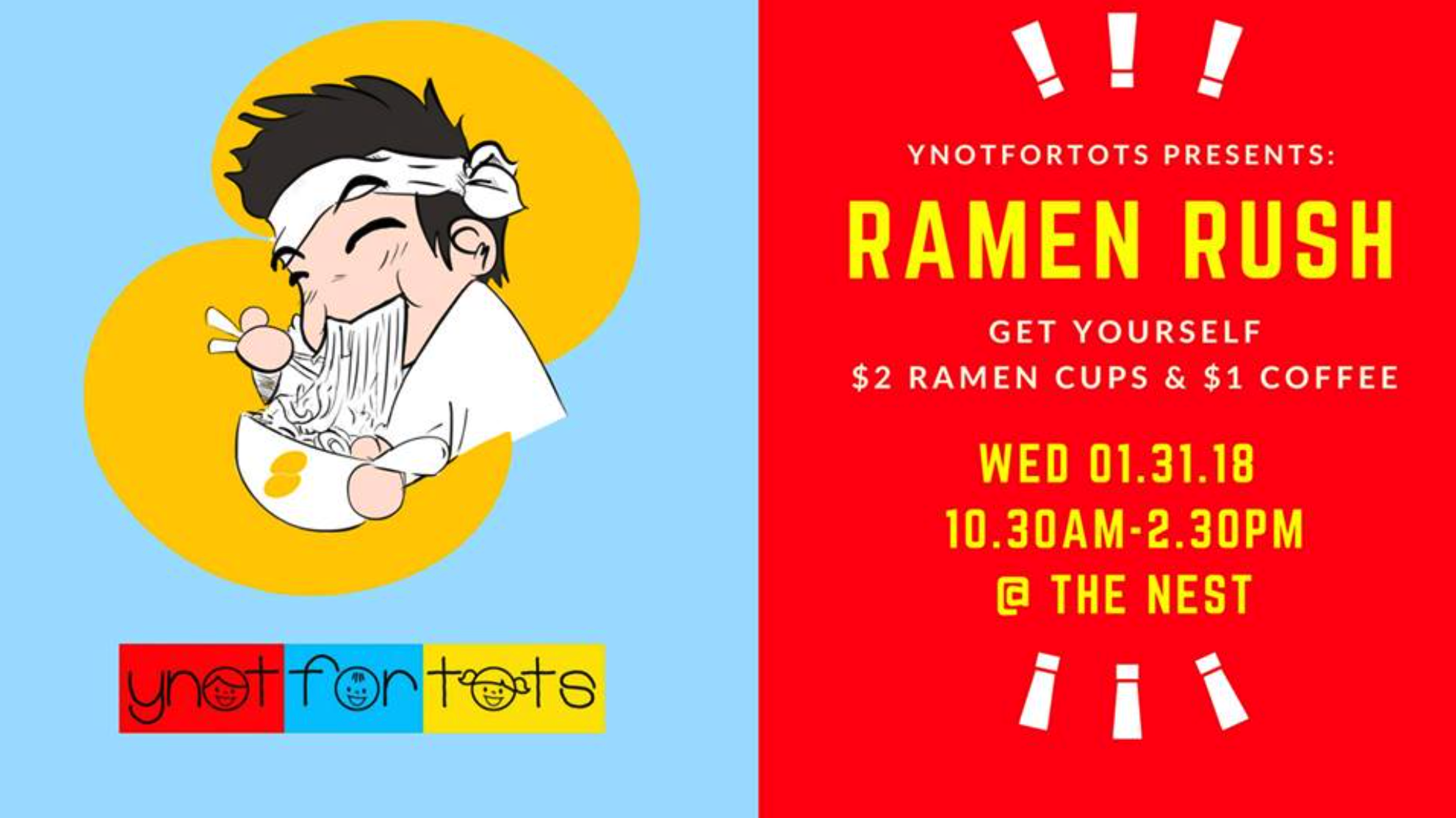 Did we just say RAMEN?! Why yes… yes we did.
Get the noodles you need with our RAMEN RUSH happening this coming Wednesday, Jan. 31st in the Nest!
Get yourself a steaming cup of ramen for ONLY $2! And wash it down with a cup of warm coffee for another $1 only.
*All proceeds will go towards funding opportunities for underprivileged children in the Lower Mainland
So keep yourself warm this cold winter season and come experience the RAMEN RUSH!!
November 27, 2017
Thank you for coming out to have some cookies and coffee with us during this cold winter season. Because of you, we were able to raise $144!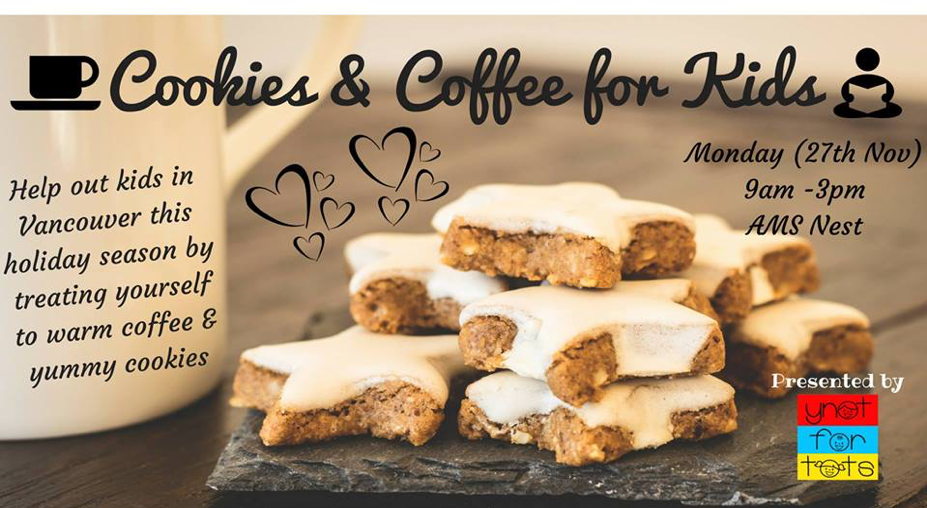 Warm up from the cold weather with a hot cup of coffee and some delicious cookies this coming Monday, November 27th.
Find our booth on the main level of the Nest across from Blue Chip Cafe
9 am – 3 pm.
All proceeds will go towards funding opportunities for underprivileged children in the Lower Mainland…what better way to start your Christmas giving than by munching on a tasty treat?
Follow the tantalizing aroma of baked goods and freshly brewed coffee!
November 14th, 2017
Thank you to all those who came out to support our 'Tots for tots' fundraiser! Thanks to your support of $160 will help us in our efforts to help deserving children of a good education!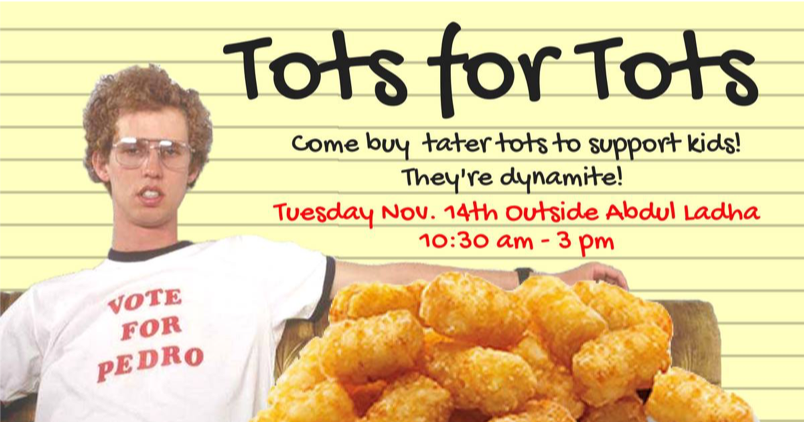 Are you always "freakin' starved"??…Then be like Napoleon and take some tater tots to class this coming Tuesday!
What better way to start your week?!
Small = $2
Large = $4
Come find us out front of Abdul Ladha (across from the Nest) from 10:30 am – 3 pm.
All proceeds will go directly towards providing equal opportunities for underprivileged children.
October 30th, 2017
Thank you to all those who came out to support our 'Trick or Cheese' fundraiser! Your donations continue to help our initiative in helping underfunded elementary schools and underprivileged children get the education they deserve.  Thanks to you, we were able to raise $231!

Do you want some GOUDA eats? Well you'll be GRILLED to hear that UBC YNOTFORTOTS will be selling delicious, cheesy meals outside Abdul Ladha (across from the Nest) this coming Monday, October 30th. Our gooey, cheese-laden grilled cheese sandwiches and quesadillas will be selling for the low low price of $3 each (or mix and match 2 for $5…even better!!) The best part of it is that all profits will go directly towards helping underprivileged children access the opportunities they need to grow and thrive! Hope to see you there 🙂
October 2017
Super thankful for UBC YNOTFORTOTS for collecting our goal of $1000 in pledges to help out our special project schools!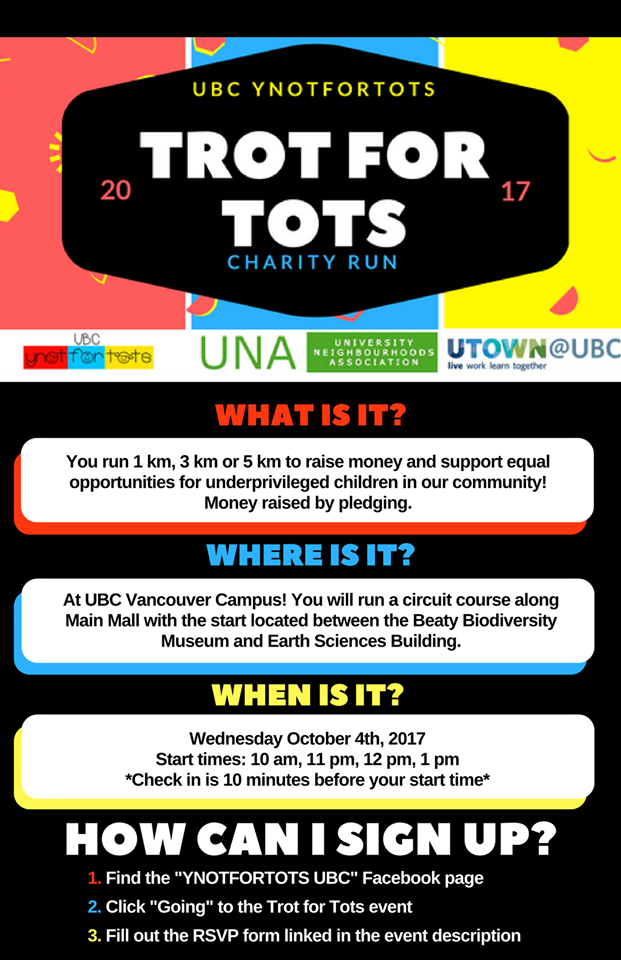 March 30, 2017
Thank you to all those who came out and supported our fundraiser! Thanks to you we were able to fundraise $300 to purchase bedding for Lord Strathcona Elementary!

What do quesadillas and grilled sandwiches have in common?….Ooey-gooey cheesy deliciousness! And you're in luck… if you are craving one of these tasty items you can GET CHEESED on Thursday March 30th at our YNOTFORTOTS fundraiser for Strathcona Elementary. Not only will our sale feature multiple cheesy menu items but they will be selling for ridiculously good prices. Stop by our booth to get TWO LUNCHES…I repeat…. TWO for the low price of $5 (Best deal around town!!)
Please see below for more details:One Grilled Cheese Sammich $3
One Que-sa-dilla $3
ANY TWO ITEMS FOR $5
February 17, 2017
Thank you to all those who came out to support our Pancakes for Painters event yesterday, it was so much fun! Thanks to you we raised over $190 to purchase art supplies for Admiral Seymour elementary school.

November 23, 2016
Thank you to those who came out to support our Samosas and Spring Rolls for Seymour fundraiser at UBC today! Once again we reached our fundraising goal of $500 ($503.25) to purchase cooking equipment for Admiral Seymour elementary. We are also very thankful for our sponsors at
Dhaliwal Sweets & Restaurant
and
Milano Coffee
for the amazing samosas and coffee that we served!

Our delicious samosas are going to leave you wanting SA-MORE after just one bite!! But WAIT there's more! We will also be serving kind bars, coffee and spring rolls (so many options)! So ROLL on over to our booth in front of Ladha on Wednesday to get some tasty snacks. ALL PROCEEDS go to purchasing cooking equipment for Admiral Seymour Elementary school in East Vancouver! Check out our prices below:
1 samosa = $2
1 spring roll = $1
1 coffee = $1
1 kind bar = $1
Interested in joining our team? On Wednesday ONLY, get a samosa, two spring rolls or an Ikuzo card holder for FREE with your $10 membership 😀
November 16, 2016
Thank you to for helping us reach our fundraising goal of $500 ($543.60 collected) to purchase Nix Lice Kits for Strathcona Elementary! We couldn't have done it without you all!

Craving something warm and sweet for these cold, rainy days? Stop by Abdul Ladha (across from the Nest) on Wednesday, Nov 16th to pick up a toasty warm churro or two….or three (or maybe even four) and a cup of hot coffee to go along with it!
It's the perfect way to brighten your day and support a great cause while you're at it 🙂 All proceeds go towards purchasing Nix Lice Treatment Kits for Lord Strathcona Elementary School children.
Churros: 1 for $3, 2 for $5.
Coffee: $1 (so cheap!)
Kind Bars: $1 each (healthy!)
Ikuzo Card Holders: 1 for $7, 2 for $10 (great Xmas gift!)
If you purchase membership, get your choice of 1 Ikuzo cardholder, 2 Kind Bars, or 1 Kind Bar + coffee FOR FREE!
October 14, 2016

YNOT break the ice and ease exam stress on a Friday night while learning about an incredible local charity and amazing volunteer opportunities?
Location: Irving K Barber Room 185.
Date: Oct 14th.
Time: 5:30 to 7:30 pm.
We are super excited to announce that we are officially a UBC AMS Club as a branch of the YNOTFORTOTS Charity! The YNOTFORTOTS charity is a charity founded with the hopes to give all children the appropriate resources to play, to learn and to grow. We collect donations for underpriviledged schools and families in the lower mainland! Come out and enjoy some FREE PIZZA AND DESSERT and find out more about how to get involved with the UBC branch of YNOTFORTOTS.
Membership will normally be $10 but if you come out to the Icebreaker you will get 50% off membership fees plus you will be entered to win a gift card for 1 DOZEN FREE CARTEMS DONUTS! Please RSVP on our facebook page so we can ensure there is enough food.
Meet our execs, learn about our special project schools, learn about past projects, and have some fun! Be there or be square! 🙂 Check out the event page!
https://www.facebook.com/events/1839314859637648/