UBC YNOTFORTOTS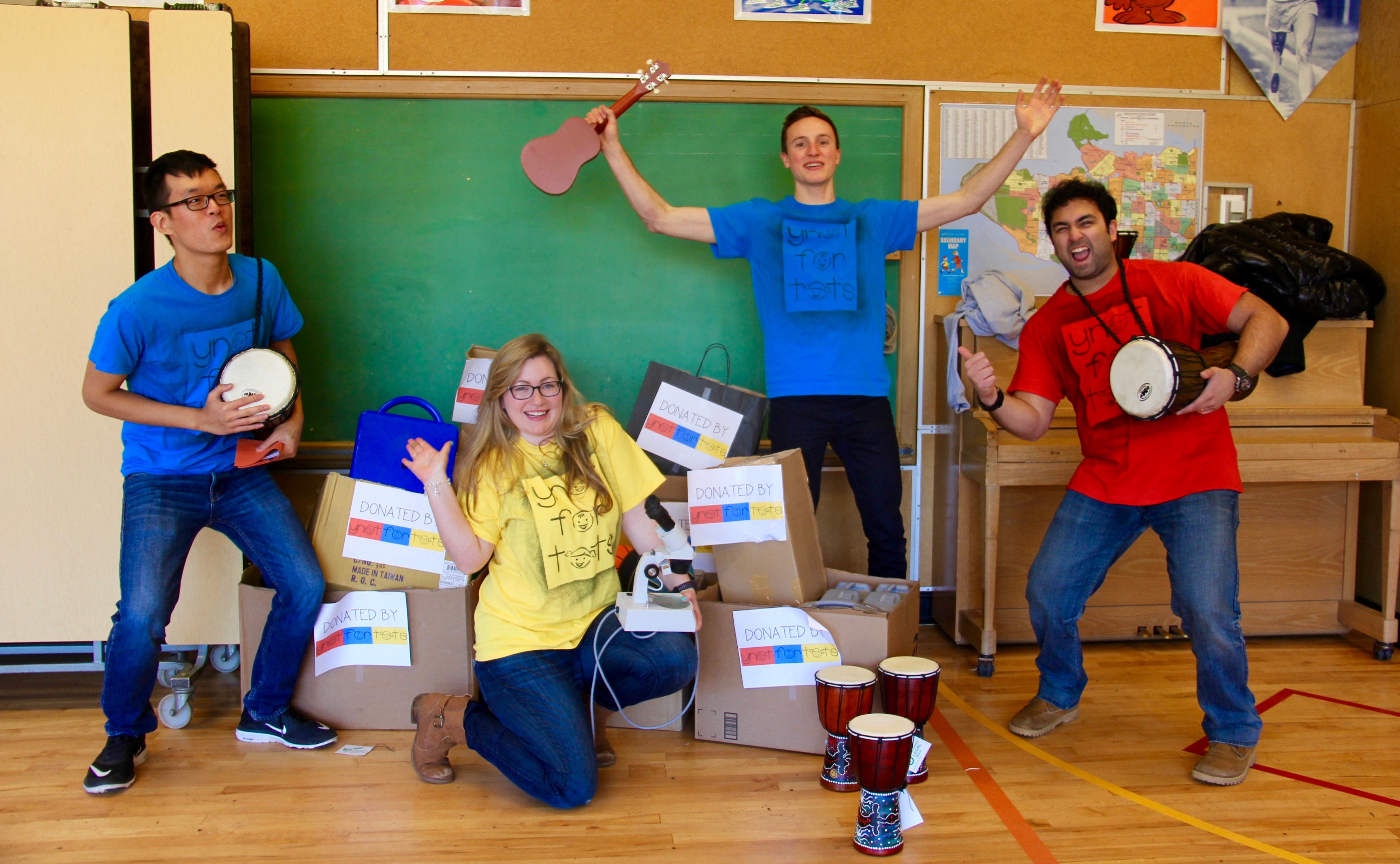 TROT FOR TOTS 
Super thankful for UBC YNOTFORTOTS for collecting our goal of $1000 in pledges to help out our special project schools!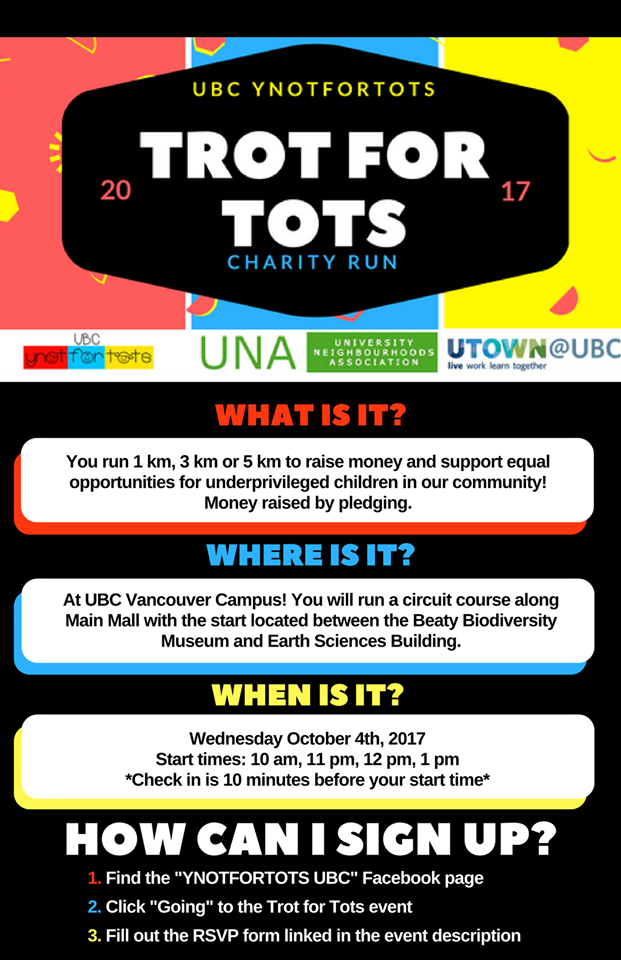 Check out the Facebook event for all the details:
https://www.facebook.com/events/349385528837944/

March 30, 2017
Thank you to all those who came out and supported our fundraiser! Thanks to you we were able to fundraise $300 to purchase bedding for Lord Strathcona Elementary!

What do quesadillas and grilled sandwiches have in common?….Ooey-gooey cheesy deliciousness! And you're in luck… if you are craving one of these tasty items you can GET CHEESED on Thursday March 30th at our YNOTFORTOTS fundraiser for Strathcona Elementary. Not only will our sale feature multiple cheesy menu items but they will be selling for ridiculously good prices. Stop by our booth to get TWO LUNCHES…I repeat…. TWO for the low price of $5 (Best deal around town!!)
Please see below for more details:One Grilled Cheese Sammich $3
One Que-sa-dilla $3
ANY TWO ITEMS FOR $5
February 17, 2017
Thank you to all those who came out to support our Pancakes for Painters event yesterday, it was so much fun! Thanks to you we raised over $190 to purchase art supplies for Admiral Seymour elementary school.

November 23, 2016
Thank you to those who came out to support our Samosas and Spring Rolls for Seymour fundraiser at UBC today! Once again we reached our fundraising goal of $500 ($503.25) to purchase cooking equipment for Admiral Seymour elementary. We are also very thankful for our sponsors at
Dhaliwal Sweets & Restaurant
and
Milano Coffee
for the amazing samosas and coffee that we served!

Our delicious samosas are going to leave you wanting SA-MORE after just one bite!! But WAIT there's more! We will also be serving kind bars, coffee and spring rolls (so many options)! So ROLL on over to our booth in front of Ladha on Wednesday to get some tasty snacks. ALL PROCEEDS go to purchasing cooking equipment for Admiral Seymour Elementary school in East Vancouver! Check out our prices below:
1 samosa = $2
1 spring roll = $1
1 coffee = $1
1 kind bar = $1
Interested in joining our team? On Wednesday ONLY, get a samosa, two spring rolls or an Ikuzo card holder for FREE with your $10 membership 😀
November 16, 2016
Thank you to for helping us reach our fundraising goal of $500 ($543.60 collected) to purchase Nix Lice Kits for Strathcona Elementary! We couldn't have done it without you all!

Craving something warm and sweet for these cold, rainy days? Stop by Abdul Ladha (across from the Nest) on Wednesday, Nov 16th to pick up a toasty warm churro or two….or three (or maybe even four) and a cup of hot coffee to go along with it!
It's the perfect way to brighten your day and support a great cause while you're at it 🙂 All proceeds go towards purchasing Nix Lice Treatment Kits for Lord Strathcona Elementary School children.
Churros: 1 for $3, 2 for $5.
Coffee: $1 (so cheap!)
Kind Bars: $1 each (healthy!)
Ikuzo Card Holders: 1 for $7, 2 for $10 (great Xmas gift!)
If you purchase membership, get your choice of 1 Ikuzo cardholder, 2 Kind Bars, or 1 Kind Bar + coffee FOR FREE!
October 14, 2016

YNOT break the ice and ease exam stress on a Friday night while learning about an incredible local charity and amazing volunteer opportunities?
Location: Irving K Barber Room 185.
Date: Oct 14th.
Time: 5:30 to 7:30 pm.
We are super excited to announce that we are officially a UBC AMS Club as a branch of the YNOTFORTOTS Charity! The YNOTFORTOTS charity is a charity founded with the hopes to give all children the appropriate resources to play, to learn and to grow. We collect donations for underpriviledged schools and families in the lower mainland! Come out and enjoy some FREE PIZZA AND DESSERT and find out more about how to get involved with the UBC branch of YNOTFORTOTS.
Membership will normally be $10 but if you come out to the Icebreaker you will get 50% off membership fees plus you will be entered to win a gift card for 1 DOZEN FREE CARTEMS DONUTS! Please RSVP on our facebook page so we can ensure there is enough food.
Meet our execs, learn about our special project schools, learn about past projects, and have some fun! Be there or be square! 🙂 Check out the event page!
https://www.facebook.com/events/1839314859637648/